That Time I Interviewed Jordan Knight, Joey McIntyre and Luke Perry—and My Inner Tween Was NOT Impressed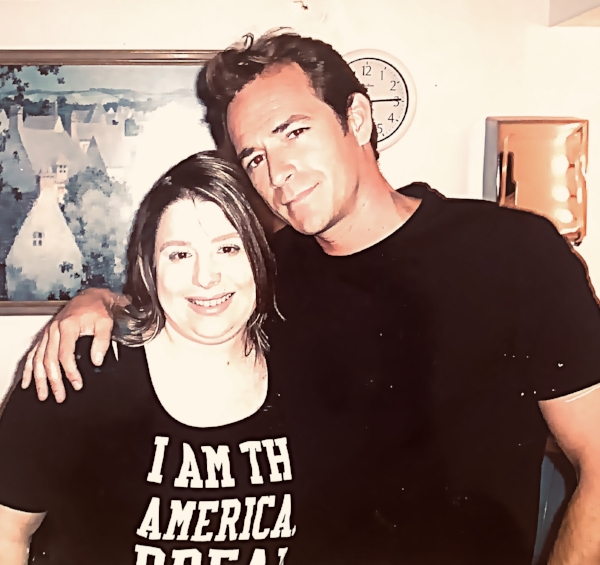 As we approach Thanksgiving, I'd like to use this space to talk about how grateful I am for the opportunities and experiences I've had as a celebrity journalist. I've foiled the paparazzi with Anne Hathaway and hung out on the set of Mean Girls with Janis Ian, Damian and Regina George. Ashton Kutcher made fun of the nuances in my speech patterns and Matthew McConaughey taught me the "rules" of "the dating game." I've always had a bit of an obsessive nature when it comes to pop culture. If I connect to a song, band, TV show, actor, movie on any emotional/spiritual level, it's basically game over—I'm all in, all consumed and all knowing. I was always obsessed with the backstories and what inspired a great piece of art and why someone would ever want to put themselves out there and be famous. I was always writing interview questions in the hopes that I'd one day get to ask them.
For example—let's just say that I wasn't simply a New Kids on the Block fan like every other girl born in the late '70s/early '80s—I was their number one fan, the only fan that mattered and the only fan that really "got" them and felt that they "got" me. Yes, I still get defensive about this today!
In the sixth grade, I saw NKOTB open for Tiffany and therefore I walked around my junior high school like I should get commission for discovering them. I would get into full on insult fights with anyone who challenged me—almost getting expelled for dropping a rather loud F-bomb during a particularly heated exchange in the cafeteria. I felt I had something over everyone else because I wrote the guys intimate letters, more personal than my journal. I spilled my guts about my so-called best friends turned my mortal enemies and bullies overnight. I confided to Jordan, Jon, Joe, Danny and Donnie that I was terrified to go to school. I revealed that I spent hours in the bathroom every morning, pretending to be sick—but that I actually stockpiled NKOTB magazines under my bathroom sink so I had something to pass the time. It made my "illness" more believable to my parents. I listened to "Hangin' Tough" on my Walkman until it wore out—and in the most cliche way possible, I made that song my mantra during those hellish, friendless, Middle School days. I felt like NKOTB was more than a band—they were my force field of protection and no one else could understand what they meant to me and why I was so connected to them. And, my letters weren't one-sided. . . I turned the tables and asked them deeply thought out and personal questions. I wanted their anecdotes, advice, insight and life experience in exchange for all I was sharing with them. They never answered but it didn't matter because I was getting something way more valuable out of the experience. I didn't realize it then but those letters were the beginning of my career as an interviewer. That innate curiosity in what made these creative beings tick—the ones who were touching my soul tick—was insatiable.
From there, my obsession with the New Kids morphed into a fascination with the TV series Beverly Hills, 90210. I was baffled that there was a show that I could (kinda) relate to while feeling drawn to the actors playing the characters (and fine. I'll just say it—Brenda and Dylan FOREVER). I wanted Dylan McKay to be MY boyfriend so badly. I wanted to write story lines for him where he was still a great boyfriend to Brenda but could still embrace into that bad boy, hotel living, motorcycle driving lifestyle. I was almost crushed trying to meet Luke Perry at a local mall. And, not crushed emotionally—like physically pushed against a Wetzels Pretzels kiosk while thousands of hormonally charged, staunchly "Team Dylan" girls started rioting at a Luke Perry meet n greet at the Fashion Mall in Plantation, Florida. I was a hysterical mess. All I wanted was to give him a scrapbook that I painstakingly made to stand out and show why my obsession was "different."
Life is funny as I do believe my obsession and fascination with celebrities and pop culture set the stage for my career. I was also obsessed with the Mickey Mouse Club-- and can confidently say I either wrote about or interviewed every cast member (Britney, Xtina, JT, and the crew) between 2000-2007. And, my obsessions are not just reserved for the obvious teeny bopper contingency—when I discovered both Nora Ephron and John Irving in the 11th grade, it set me on my life's path and I bow down to both of them to this very day. We've already touched on Aerosmith and Steven Tyler —and I'm not emotionally prepared to really dive into the full impact Tyler and Aerosmith have made on my creative and spiritual life!
But, in a true "not so it girl" way—a way that only I could manifest—early in my career, I had the opportunity to interview and meet Joey McIntyre, Jordan Knight and Luke Perry. You know how they say don't meet your idols? Yeah, I wholeheartedly can attest that it's not a good idea. Let's break down why with a few highlights . . .
Joey McIntyre: Around 2003, Joey was trying to go solo (again) and was not impressed to be at the CosmoGIRL! Offices. This was many years before "reunion" STOPPED being a dirty word and Joey was desperate to shed his boy band skin. So, when I whipped out my "Joey McIntyre NKOTB doll" for him to autograph—he did it so begrudgingly that I think a piece of his soul died. He knew I only agreed to let him talk about his new music to indulge my inner child. My 12-year-old self was freaking out and Joey could care less. But, we kept the dance going—and then it happened—we bonded. Much to Joey's chagrin, I managed to keep the conversation going and going (hello innate interview skills) and discovered that we both were fans of Julia Cameron's The Artist's Way and of numerology . . . and we started connecting so well that I was sure he was about to invite me on tour. Except then he told me how numerology played into the story of how he met his wife and that's why she was his soul mate and well, that was that. Womp. womp!
Jordan Knight: So, I can't remember if Jordan came to the CosmoGIRL! offices before or after Joey but it was definitely AFTER Jordan had a tiny solo hit with "Give It To You." He'd already opened for 'NSYNC and was trying to use that fuel to once again become a headliner. His manager reached out and asked if I'd be interested in doing a major feature on Jordan. I said yes—which wasn't a lie, because I was very interested, but I knew that CosmoGIRL! wouldn't even want a quote from him in a round up. It was all semantics—I just wanted to meet Jordan. The manager didn't seem to care—and set up a time for Jordan to come by the office so we could "get to know each other." And, just as I did for every first date—I got my hair blown out and bought a new outfit. I also plotted out 20 thoughtful questions just in case I conducted such an amazing "get to know you" interview that my editors decided to put him on the cover. Instead, Jordan's manager "dropped him off" and said would be back in an "hour or two." I literally had to entertain and basically baby-sit Jordan Knight for 2 hours—which sounds amazing except our interview lasted less than 20 min (he's not exactly a man of many words) and after touring the fashion closet (which at CG! was filled with women's clothes) there's not much else to see or do. Teen magazine or not—everyone was mostly at their computers writing or editing—and trying to concentrate! I tried to find anything that Jordan and I might have in common and could connect on— but the cold hard truth is that we turned out to be very different people. Though, I'll never forget that Jordan had the song "White Lines" by Grandmaster Flash stuck in his head and kept randomly busting out the chorus in spurts. To this very day, I think of it as "our song" every time it comes on. At least we have that!
Luke Perry: Do you know what an aging teen heartthrob never wants to hear? That you almost died trying to meet him 20 years earlier. So, when I was the deputy editor of Inside TV (a very short lived TV Guide spin-off) and was offered an in person interview with Luke (BACKSTAGE at Live! With Regis and Kelly!!!), I was so excited that I basically camped out at the studio for a week. I was going to be face to face with Dylan McKay? And maybe get a glimpse of Reg?!? I couldn't sleep for a week. Now, I wasn't exactly allowed to ask very many 90210 questions (he was promoting a "career making" sci-fi TV movie called Supernova). But, I managed to get Luke to spill a tiny bit—so therefore I broke the big news that he would NOT be returning to Jennie Garth's sitcom What I Like About You. He guest starred on the season that had just ended and spoofed his 90210 relationship with Jennie's character. As the interview wrapped, I softly said that I had something to ask him. "What is it?" he practically whispered the same way Dylan told Brenda he loved her the night of the spring dance. "Do you remember being at the Fashion Mall in Plantation, Florida—around 1992?" I asked, waiting for him to sweep me into an embrace as he'd be so overcome with emotion to be reunited with this fan turned journalist from his headline making event. He'd instantly know that it was kismet bringing us back together. "It was the worst day of my life—I still get sick thinking about it," he said gruffly. The loving whisper was gone, replaced with something new in his voice . . . I still can't put my finger on it but perhaps it was a mix of amusement with horror? A little disdain? Whatever it was, our relationship was doomed before it began.

And for one last little taste of hilarity . . .
Donnie Wahlberg: Years after CosmoGIRL!, I wrote for Glamour and happened to mention to a fellow writer how much I loved NKOTB. Well, she went ahead and surprised me with this little extravaganza—all caught on tape so I can feel what it's like to melt into the floor from embarrassment anytime I want!